Mustangs of Colony Ford
Click Here to See our New Mustang Inventory
Ford Mustang in Brampton for the Toronto Area

    At Colony, we are very passionate about a timeless muscle car, the Ford Mustang. After all, it is the preferred sports car in the Movie industry.  We strive to provide the Brampton, Greater Toronto Area and Ontario region with a vast variety of Mustang models, including the Boss 302 and California Special. Our selection includes the thundering GT with 420 horsepower from the 5.0 Liter "Coyote" V8. The V6 versions are definitely something to get excited about, as they are more powerful than the early generation V8 versions, yet better on fuel economy. We have both Mustang convertibles and coupes in stock with manual or automatic (select-shift) transmissions. Colors range from the head-turning "Gotta Have it Green", "Grabber Blue", or as subtle as "Sterling Grey".

At Colony, we are no stranger to the Mustang brand. We absolutely love giving the options of personalizing your Mustang to look and perform the way YOU want. Our Colony Customs division allows for an array of aesthetic and performance products which are installed in-house. Colony Ford is also a Licensed ROUSH Dealer, and has authorization to order and install from this Championship winning company. Most Roush components are actually backed by Ford, meaning that if we install a certain Roush component, it will not void your warranty and will also be offered with the same factory warranty timeline duration.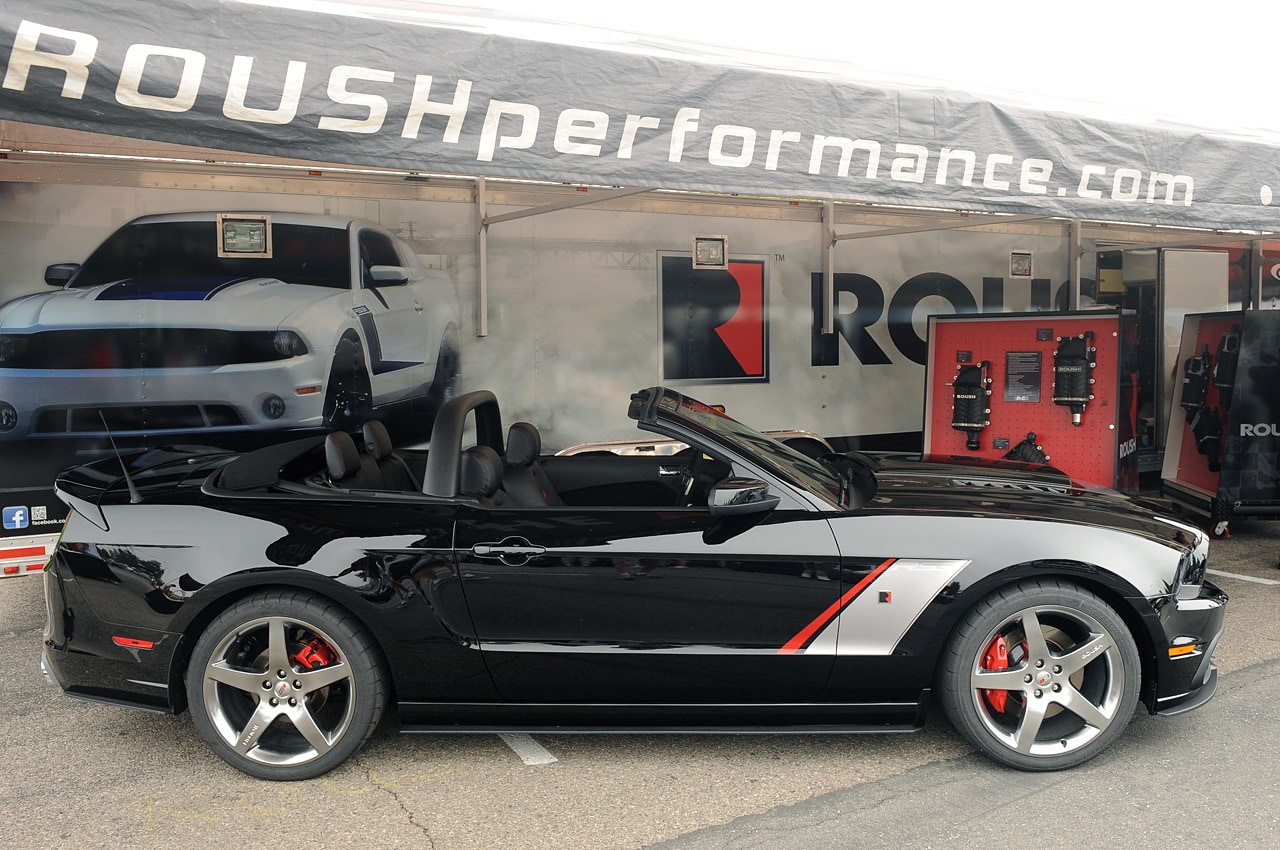 Colony Customs Installs
Roush Intake & Exhaust on Mustang GT
Roush Exhaust on Mustang V6
Some Colony Customs Accessories and Details installed on 2014 models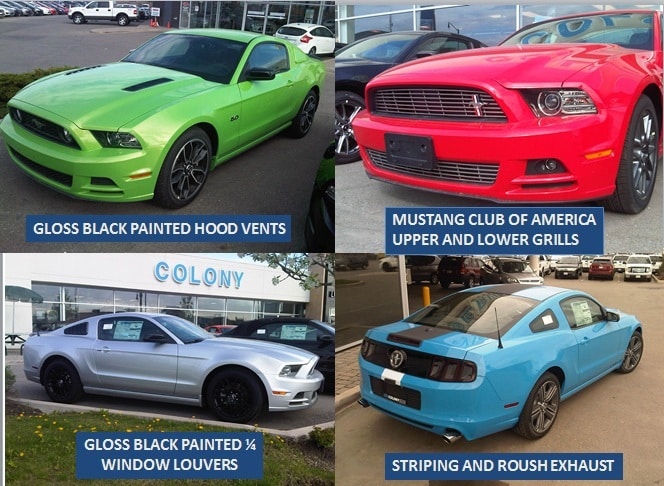 Whether you want a Mustang for performance, as a daily driver, or simply just top-down summer fun, we have the Mustang for you. If not, we can certainly get it for you!


2013 Ford Mustang in BramptonHave you seen the amazing new features in the 2013 Mustangs? The nifty new puddle lights under the side mirrors display a Mustang silhouette which lights the ground beside your door. Speaking of lighting, the LEDs that cross each headlamp really adds and aggressive yet classy style.  The new electronic powersteering allows you to select steering feeling such as "comfort" or "sport". On the gauge clusters of the GT versions you can monitor the details of your motor by scrolling through the center LED screen, here you can see details such as oil pressure, inlet air temperature, and even performance numbers like 0-60 times and 1/4 mile times! These are truly the best Mustangs to ever be produced.





We also offer a car control school and performance driver training which is very beneficial to owning such a powerful machine. These take place in the Brampton area on a closed course, or with the performance driver training, you can take your Mustang to the track and really unleash it's performance without having to worry about the police in your rear-view mirror.


Lastly, among the many charities that Colony supports, one of our main local events is the James Fund Sports Car rides Charity. We hand our Mustang GT to a Colony employee who is also a professional driver, and take those who choose to donate to the James Fund on a thrilling ride on a closed course (in Brampton). With the assistance of Tire World Brampton, our driver takes this Mustang GT beyond it's grip limits and drives the course in a smokey sideways fashion. Whether you are a passenger or on-looker during this event, it is lots of fun and very entertaining! Be sure to check out our YouTube video coverage of the past James Fun charity events we have attended...
Also, follow us on Facebook to be up-to-date with our 2013 events, and also when our next car show is!
Click here for our Facebook Page